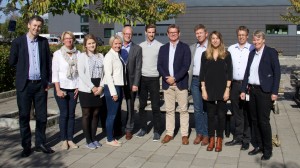 Tuesday Sept. 20 the RCN team: Kai Mjøsund, Liv Jorunn Jenssen and Øyvind Veddeng Salvesen had their Site visit to SFI Offshore Mechatronics.
University of Agder as host, presented the status of the Center and presented also the future plans for Mechatronics Innovation Lab. The feedback from RCN was that the SFI Offshore Mechatronics is on track. In the picture above (from the right): Center Director Geir Hovland- (UiA) Special adviser Liv Jorunn Jenssen (RCN), Controller Silje Bartholdsen (UiA), Faculty Director Heidi Kristensen (UiA), Chariman SFI Offshore Mechatronics Leif Haukom (GCE NODE), Adviser Øyvind Veddeng Salvesen (RCN), Deputy Director General Kai Mjøsund (RCN), Head of department Rein Terje Thorstensen (UiA), Adm. manager SFI Offshore Mechatronics Rachel Funderud Syrtveit (UiA), Chief Financial Officer Kjetil Hellang (UiA) and University Director Seunn Smith-Tønnessen (UiA)
The RCN participantans also got a demonstration in the UiA Motion lab, by PhD Research Fellow Sandre Sonden Tørdal. He is doing his work within Work Package 2: Motion compensation, led by NTNU professor Olav Egeland.