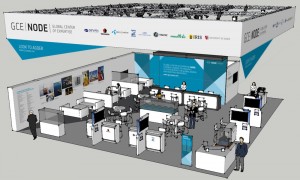 3D Image of GCE NODE Stand at ONS 2016.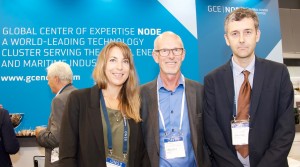 From left to right: Administrative Centre Manager Rachel Funderud Syrtveit, Centre Chairman Leif Haukom and Centre Director Geir Hovland at ONS 2016.
SFI Offshore Mechatronics was presented at ONS2016 on Tuesday, August 30. The SFI took part in the well-organised stand created by GCE NODE. See also http://gcenode.no/news/day-by-day-at-ons-2016. GCE NODE (WP7 Leader) deserves credit for organising this superb stand. The SFI centre management gave a short presentation about the research done so far, handed out the 2015 annual report and also the special offshore mechatronics issue of the MIC research journal. In addition, presentations were given about the Mechatronic Innovation Lab (MIL) and about the Ullrigg Drilling and Well Centre by IRIS.