The WP leaders for WP 1-6 used all Wednesday Nov 4. to visit the four main industry partners in the Agder region: MHWirth, NOV, Cameron Sense and MacGregor.
The purpose for this tour was to inform about the main research tasks in the project, get feedback for adjustment of the 2016 work-plans and to inform about the possibilities for employees in the companies to apply for PhD-positions within the different work-packages. The industry experience will be important to get a relevant research output, and applicants from industry partners are encouraged to apply for the PhD positions in the SFI Offshore Mechatronics centre.
The first PhDs are already in place, and several positions will be announced in 2016.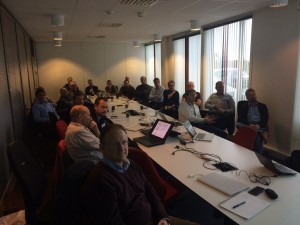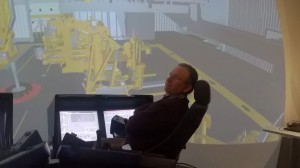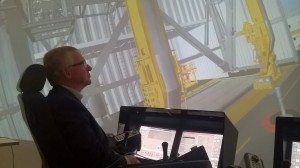 WP Leaders trying out the training simulator at NOV (Left: WP6 Leader Baltasar Beferull Lozano. Right: WP2/WP4 Leader Olav Egeland).