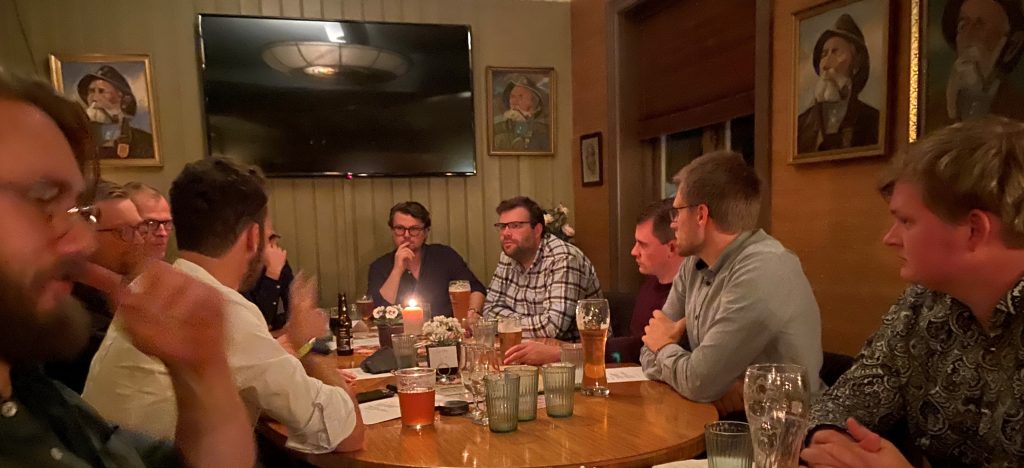 Norwegian Society of Mechatronics (NSOM) had their first general assembly on October 22nd with 12 participants*. The society was initiated by SFI Offshore Mechatronics alumni Sondre Sanden Tørdal and Daniel Hagen. The purpose is to serve as scientific and social community for people with an educational background and interest in mechatronics. SFI Offshore Mechatronics welcomes this initiative and look forward to various forms of collaboration.
*The event took place before the second round of covid-19 restrictions in Norway
NSOM is formally registered as an association and the general assembly elected the following board:
Chair of the board
Sondre Sanden Tørdal* (Postdoctoral Research Fellow UiA, CEO Motiontech)
Co-chair of the board  
Daniel Hagen* (Researcher UiA, R&D Engineer Red Rock)  
Board members 
Sondre Nordås* (R&D Engineer MacGregor)  
Morten Hallquist Rudolfsen (Assistant Professor UiA)  
Andreas Klausen (Assistant Professor UiA)  
Philipp Thomas Pasolli (R&D Engineer Macgregor)
*SFI Offshore Mechatronics alumni
The first general assembly also appointed long time mechatronics enthusiast and assistant professor at UiA, Morten Ottestad, as honorary member of the society. Get in touch with NSOM at post@nsom.no and be notified about upcoming events.