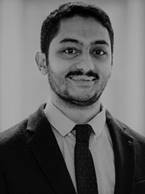 Mohamed Yusuf is a new researcher in WP5.4 Condition-based lifetime prediction as result of calculated component loads.
His background is:
B.Sc. in Mechanical Engineering at the University of Debrecen (Hungary) between 2013 to 2017 with a specialization in "Operation and Maintenance".
Erasmus+ scholarship to study a European Joint Master Degree specialized in Tribology of Surfaces and Interfaces between 2017 and 2019.
M.Sc. was studied at the University of Leeds (UK), University of Ljubljana (Slovenia) and Luleå University of Technology (Sweden) respectively. M.Sc. thesis written in cooperation with the Swedish Engineering company Sandvik AB.

M.Sc thesis was aimed at creating a FEM-based Multiphysics model of a spiral groove bearing used by Sandvik in their cone crushers, in order to gain a deep understanding of how it operates and to suggest design improvements based on the model.

Starting from October 2019, Mohamed has been employed as a research assistant in the Off-Highway branch of the MSE institute at RWTH Aachen University and is co-supervised by the head of the Off-Highway branch, Stephan Neumann.