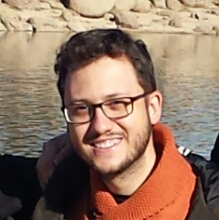 Luis M. Lopez-Ramos received the B.Sc. degree in telecommunications engineering in 2010 from King Juan Carlos University (URJC), Madrid, Spain; and the M.Sc. and Ph.D. degrees in multimedia and communications in 2012 and 2016, respectively, from URJC and Carlos III University of Madrid, Madrid, Spain. During the Fall semesters of 2013 and 2014, he was a visiting scholar at the Dept. of Electrical Engineering, University of Minnesota, Minneapolis.
Since 2010 he has been carrying out research and teaching activities with the Dept. of Signal Theory and Communications at URJC. In February 2017, he joined the University of Agder, Grimstad, Norway as a post-doctoral research fellow.
Dr. Lopez-Ramos' research currently focuses on stochastic nonlinear programming, stochastic approximation and signal processing techniques, and their applications in wireless networks and power networks. In the SFI Offshore Mechatronics project he will work in WP6.1 Distributed in-network intelligence across multiple components.