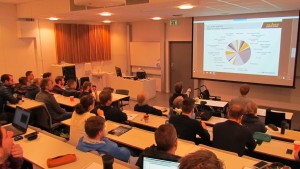 A Webinar was given by the SFI Partner Klueber Lubrication on November 15. There were more than 30 participants present in the auditorium at UiA: both MSc and PhD students and some engineers from other SFI partners. The lecture was interesting and very relevant: all the available time for questions and discussion was used. The agenda and timetable of the Webinar was as follows:
10:00 am Introduction Klüber, trainers. Mrs. Janke, 10 mins
10:10 am Fundamentals of Tribology and Lubricants, Mrs. Janke, 30 mins
10:40 am Bearings, design and requirements, Dr. Mayer, 30 mins
11:10 am Discussion, all, 20 mins
11:30 am End
The SFI administration would like to thank Klueber for their willingness to give this Webinar. Hopefully the Webinar sparked some thoughts and ideas for future projects.